Print PowerPoint documents with multiple slides per page by using any of the print methods below:
PRINT METHODS
PRINT APP DRIVER
Download and install the wepa print app driver from the wepa website or from the below links:
Open the document normally then select File>Print and select a wepa printer from the printer drop down menu.
For Windows, under Settings, select Full Page Slides for a drop down menu and select an option under Handouts: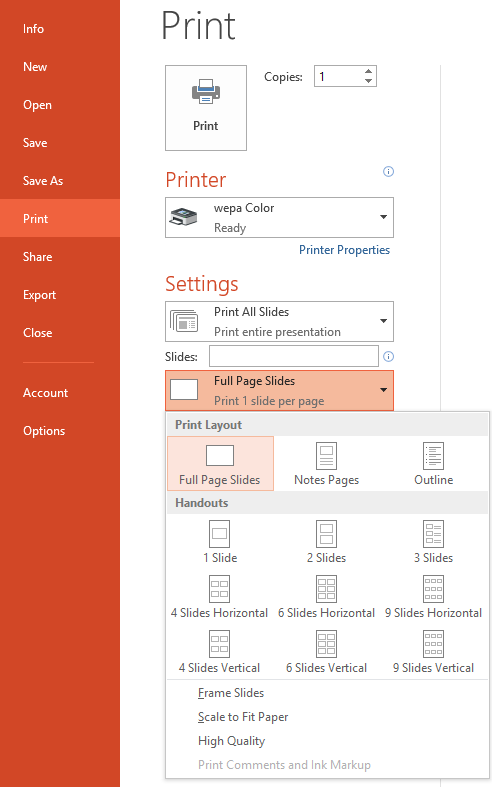 For Mac, select Preview for a drop down menu then select Layout: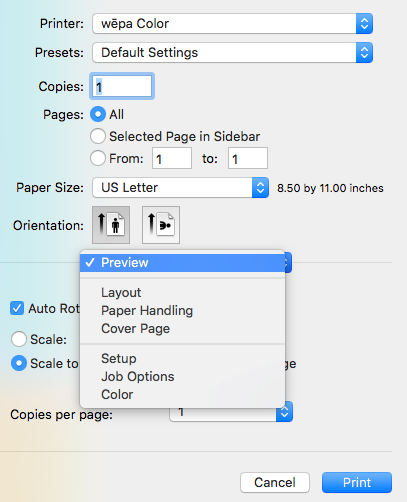 Under Pages per Sheet, select the number of pages to print per page: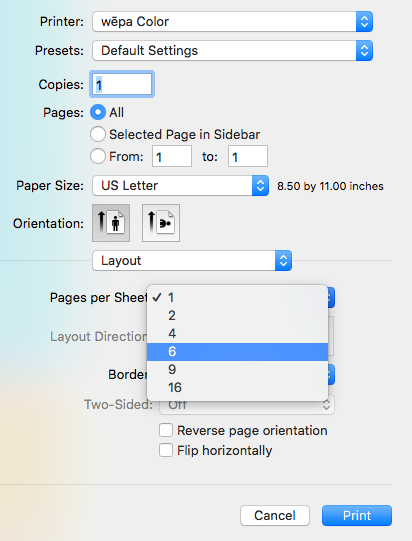 Confirm settings with the print preview and select Print to complete uploading the document.
Click here for more details.
WEB UPLOAD
Login to your wepa account at the wepa website and select Document Upload in the top right black menu bar.
Step 1: Select 'Choose your file' and find your document in the computer directory or simply drag the PowerPoint document to the 'Upload Your Document' window.
Step 2: Change print options. Under 'Presentation Options', select Handouts from the 'Print What' field. Another field will appear to the right to select the number of slides to print per page: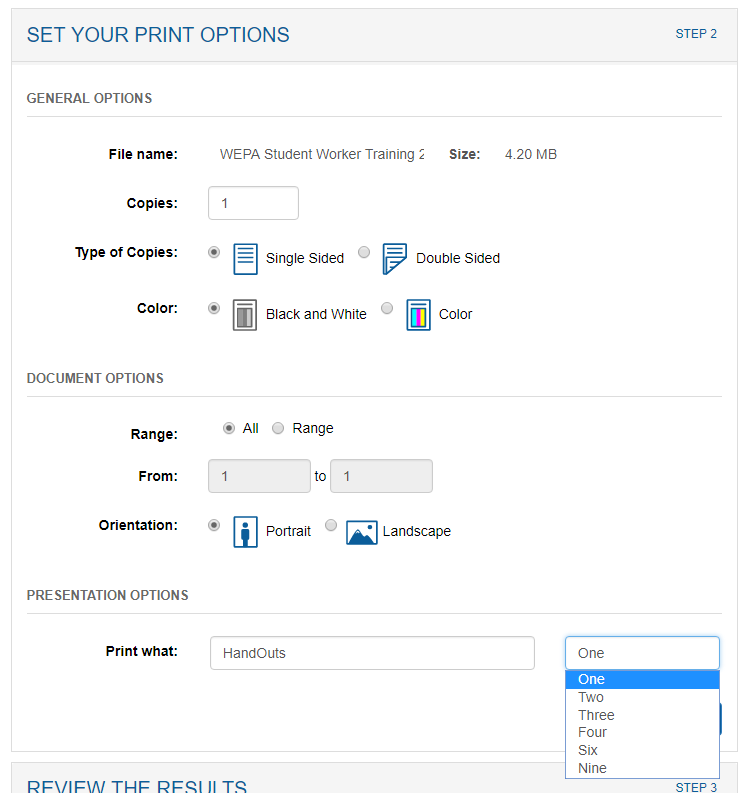 Select 'Send Print Options' to complete the web upload.
Click here for more details.
EMAIL TO PRINT
Open a new email and enter print@wepanow.com in the To: field, then attach a PowerPoint document.
Enter on the first line of the email body handouts followed by the number of slides per page. Below are acceptable values:

handouts2 – 2 slides per page
handouts3 – 3 slides per page
handouts4 – 4 slides per page
handouts6 – 6 slides per page
handouts9 – 9 slides per page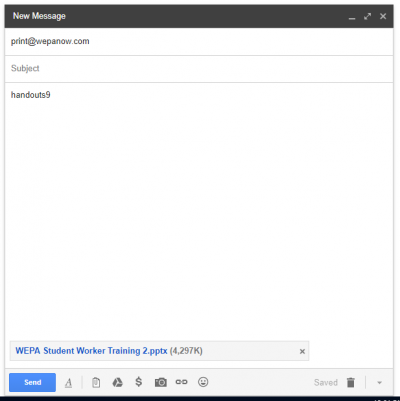 Send the email and a follow up confirmation email will arrive within minutes showing the print options of pages, color or black/white, and 1-sided or 2-sided: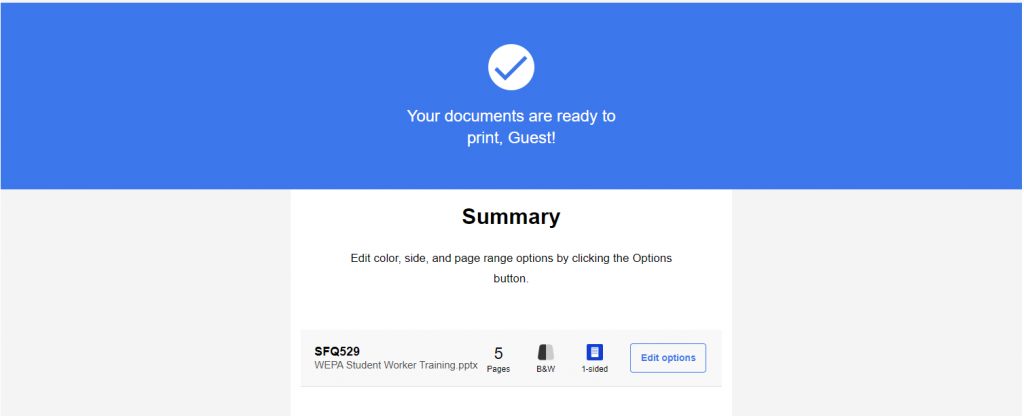 Select Edit Options for a wepa webpage to launch and see the existing options that are set. Also change these options and select 'Send print options' to finalize the changes:

Click here for more details.
MOBILE APP
Install the wepa print app from either the Google Play Store for Android phones or the Apple iTunes App Store for iPhones.
Open the PowerPoint document and either share to or open with the wepa print app.
At bottom, select the Print Mode section for options to appear: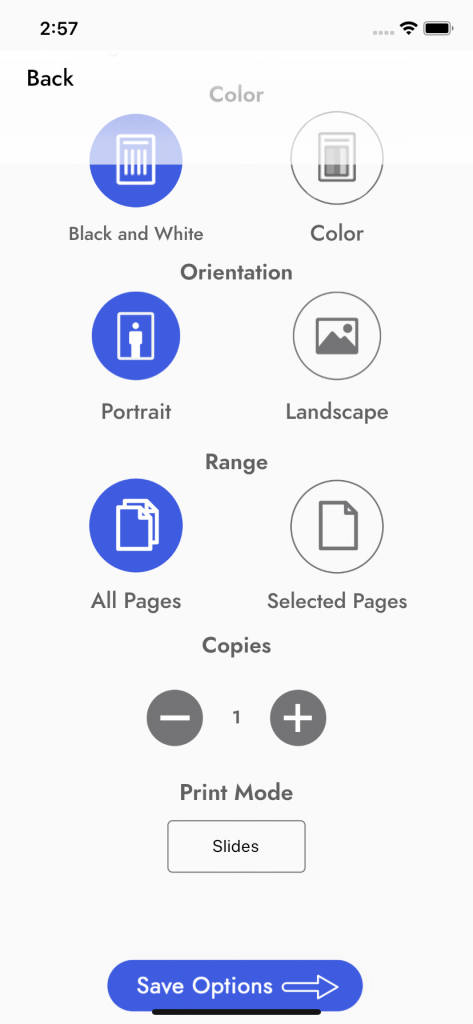 Options will include 'Slides', 'Handouts', 'Note pages', 'Outline view'. Select Handouts to proceed:

Click here for more details regarding the Android/iOS wepa mobile apps.
CLOUD | LMS | USB
Login to your wepa account at the Print Station by either swiping a campus/tagged card or manually entering username/password credentials by selecting 'Don't have a card' at the bottom then wepa account login. If no account, select 'Print From Cloud or USB (no account)'.
Choose either USB Drive or a Cloud or LMS application on the right and login with appropriate credentials.
Select Preview by the PowerPoint document and then under Print Layout, select Full Page Slides for a drop down menu to select multiple slides per page: