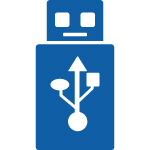 Print directly at the print station with a USB device.
wepa USB Upload Tutorial Video
Supported Document Extensions: .doc, .docx, .xls, .xlsx, .ppt, .pptx, .pdf, .rtf
Supported Image Extensions: .png, .jpg, .jpeg, .bmp, .gif, .tiff, .tif
At print station, login to wēpa account by swiping campus or tagged card. If no card is available, select 'Don't have a card' at the bottom. Select 'Wepa Account Login' to manually login or select 'Print From Cloud' if you have no account.
Select USB Device on the right.
Select files to print and edit print settings by selecting the blue Settings icon on the right. Print Settings include black&white and color. Print Setting details are below.
Select 'Done' when finished.
Select 'Print' green icon at bottom which will show the amount and pages to be printed.
Select Payment Method to begin printing documents.
Remember to remove USB device when leaving.
PRINT SETTINGS
Copies: Number of Copes (default: 1)
Print Range: All (default) – print all pages | Selected Pages – set page range
Page Handling: Single-sided (default) – print on front side only | Double-sided – print on front & back
Page Orientation: Portrait (default) | Landscape
Color Settings: Black & White (default) – print black and white only | Color – print with color
PowerPoint Documents
Includes 'Print Layout' option to print Handouts, Full Page Slides, Note Pages, or Outline View.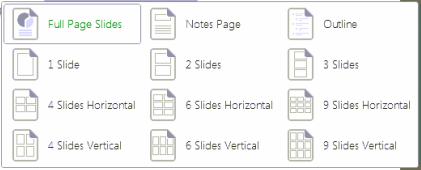 HANDOUTS: multiple slides per page. Select either 1 | 2 | 3 | 4 | 6 | 9 to indicate number of slides per page.
FULL PAGE SLIDES: each slide on ONE page.
NOTEPAGES: portrait orientation with each slide in upper half and lower half blank for notes.
OUTLINE VIEW: all slides in order with outline of text.
Excel Documents
Includes 'Sheet Options' to print Selected Sheet(s) or Entire Workbook.
Image Files
Copies: Number of Copes (default: 1)
Image Print Size: Full Page (default)  | 4″×6″  |  5″×7″  |  8″×10″
Image Print Options: Keep Original Aspect Ratio  |  Auto Crop to fit Size (default)  |  Stretch to fit size
Image Rotation: Auto Rotate Image  | Keep Image Orientation (default)
Color Settings: Black & White (default) – print black and white only | Color – print with color