For accounts that wēpa manages, the wēpa account password can be reset. The following post shows how to reset wēpa account passwords from the website, Windows Print App, Mac Print App, or Mobile Print App:
NOTE: wēpa will never ask for your password.
WEBSITE
Login at website and click the 'Forgot your password?' link (shown by red arrow):

Visit website login page and click 'Forgot your password?'.
Enter Username/Email then select the blue Submit button.
A statement will appear confirming an email has been sent with instructions on completing the password reset.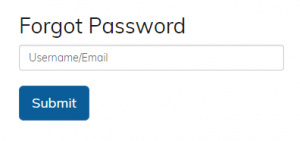 WINDOWS / MAC PRINT APP
Under the 'Password' field, click the 'Forgot password' link to automatically open Forgot Password Wepage.  Follow steps stated above in WEBSITE section.
MOBILE PRINT APP
Tap 'Forgot Password?' underneath the 'Log In' button, then enter 'Username/Email' and tap 'Submit'. An email will be sent to the email address entered to reset password.