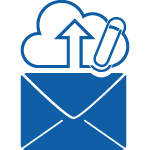 Introducing ETOP (Email-To-Print) – now you can email your attached documents to print@wepanow.com and get a reply back with your files ready to release at any print station!

Supported Document Extensions: .doc, .docx, .xls, .xlsx, .ppt, .pptx, .pdf & .rtf
Email-To-Print UploTutorial Video
Open a new email. Use email address associated with your wēpa account to upload to print queue. If a different email address is used, then you will be considered a 'Guest' and the wēpa code provided in Step 6 will be required to print.
Enter print@wepanow.com in 'To:' field.
Attach document(s) to email (File size must not exceed 50MB. Email provider may have file size restrictions as well).
Send email if desired print settings are black&white and single-sided.
Enter in first line of email body Color and/or Duplex (double-sided) to change settings. For PowerPoint options, see above Tutorial Video. Options will apply to all attached documents.
Email reply will appear in Inbox within minutes. Allow more time for multiple documents or large file sizes. The confirmation email will provide a wēpa code to use at the print station. If email was sent using associated email address with wēpa account, document(s) will be available in print queue.
PRINT SETTINGS
"Color" – print the document in color
"Duplex" – print the document on front and back of each piece of paper
PowerPoint Documents
Powerpoint presentations will be printed as Full Page Slides unless specified with  one of the below options:
"slides or slides1" – Slides
"handouts or handouts1" – Handouts, one per page
"handouts2 or slides2" – Handouts, two per page
"handouts3 or slides3" – Handouts, three per page
"handouts4 or slides4" – Handouts, four per page
"handouts6 or slides6" – Handouts, six per page
"handouts9 or slides9" – Handouts, nine per page
"notespages" – NotesPages: portrait orientation with each slide in upper half and lower half blank for notes
"outline" – Outline: all slides in order with outline of text.
Maximum Size
The maximum document size is 50MB total .  Depending on your email provider, they may also have a size limit.
Example
Below is an example of how the email message should look if you want Color prints: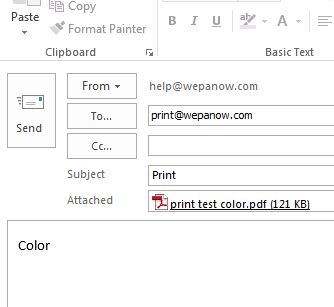 Each document will have its own individual wēpa code.  If you want to print more than one document at a time at the Print Station you can log in to your account and click on multiple uploaded files.  Guest users will need to enter each individual wēpa code at the Print Station if printing multiple documents.