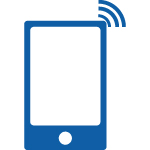 Upload documents from iPhone or iPad using the iOS Mobile App or Email-To-Print service. Download the iOS App from the Apple iTunes App Store by searching 'wepa print'.
Note: If no results appear, the iOS App is not supported on device. Use the Email-To-Print service to upload documents.
UPLOAD DOCUMENTS
Supported File Formats: .doc, .docx, .xls, .xlsx, .ppt, .pptx, .pdf, .rtf
Open document and select 'share' icon.
Share with the wepa Print app.
Select Options to change print settings such as color and black&white.
Select Upload File to complete upload process.
If wepa Print app is not available under 'share' icon, select Email and use the Email-To-Print service.
iPad: iOS Mobile App & Email-To-Print Tutorial Video
Document Print Setting Options:
Copies: Number of Copes (default: 1)
Color: B&W (default) – print black and white only / Color – print with color
Single-sided (default) – print on front only / Double-sided – print on front AND back
Page Orientation: Portrait (default) / Landscape
Pages: All (default) – print all pages / Range – set page range to print
PowerPoint Documents
Includes 'Print What?' option to allow Slides, Handouts, NotePages, or Outline View.
SLIDES: each slide on ONE page.
HANDOUTS: multiple slides per page. Select either 1 | 2 | 3 | 4 | 6 | 9 to indicate number of slides per page.
NOTEPAGES: portrait orientation with each slide in upper half and lower half blank for notes.
OUTLINE VIEW: all slides in order with outline of text.
PHOTOS
Select menu icon in top right and select 'Take a Photo' to take a picture with the iOS Device, 'Scan' for a picture of a document, or 'Camera Roll' to select a picture stored in Photos.
iPad: 'Scan' & 'Camera Roll' Tutorial Video