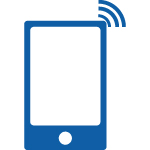 Upload documents from an Android device by using the Android Mobile App. Download the Android App from the Google Play Store by searching 'wēpa print'.
Note: If no results appear, the Android Mobile App is not supported on device. Use the Email-To-Print service to upload documents.
UPLOAD DOCUMENTS
Supported Document Extensions: .doc, .docx, .xls, .xlsx, .ppt, .pptx, .pdf, .rtf
Open document and select 'share' icon.
Share with the wepa Print app.
Select Options to change print settings such as color and black&white.
Select Upload File to complete upload process.
Another method is select menu in top right then Add File. Select document from directory and edit Options then Upload File.
Android Mobile App: Upload Documents Tutorial  Video
Document Print Setting Options:
Copies: Number of Copes (default: 1)
Color: B&W (default) – print black and white only | Color – print with color
Single-sided (default) – print on front side only | Double-sided – print on front & back
Page Orientation: Portrait (default) | Landscape
Pages: All (default) – print all pages | Range – set page range
PowerPoint Documents
Includes 'Print What?' option to allow Slides, Handouts, NotePages, or Outline View.
SLIDES: each slide on ONE page.
HANDOUTS: multiple slides per page. Select either 1 | 2 | 3 | 4 | 6 | 9 to indicate number of slides per page.
NOTEPAGES: portrait orientation with each slide in upper half and lower half blank for notes.
OUTLINE VIEW: all slides in order with outline of text.
PHOTOS
Select menu icon in top right and select 'Take a Photo' to take a picture with the Android Device, 'Scan' for a picture of a document, or 'Camera Roll' to select a picture stored in Gallery.
'Take a Photo' Tutorial Video
Scan
Option allows for cropping a picture taken of a document. Move the four blue dots to the corners of document then select 'Continue'.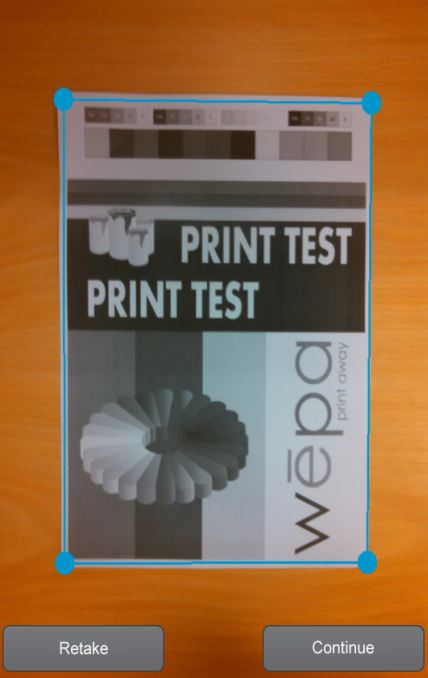 Camera Roll
Upload pictures available in Gallery application. Select 'Camera Roll' then the picture previously taken to open within the Android Mobile App.